GetGray
Digital Video Calibration
Professional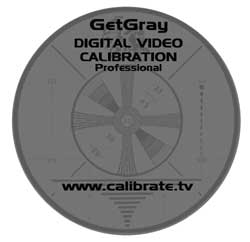 Update, 06/17/17: The GetGray calibration DVD continues to be the most popular calibration DVD in the world. There are thousands of copies in use all over the world, in every country. It is currently recommended in all ISF (Imaging Science Foundation) video calibration classes as the #1 source for accurate, easy to use grayscale patterns. Even when calibrating Blu-Ray sources, the grayscale patterns (the most important piece of calibration) on the GetGray DVD are 100% accurate and the best source for grayscale calibration whether using regular DVD or HD material.

This calibration disc designed specifically for fixed pixel devices (NOT CRT's). Exact colors, perfect functional, fundamental patterns. Simple, intuitive navigation. No fluff, no hand holding videos. All the calibration patterns needed to properly calibrate your device. Professional quality patterns, Professional performance and navigation.
No color measuring devices are required for the use of the fundamental fundamental patterns on this disc (brightness, contrast, color, tint, etc.) but a full complement of the fundamental professional patterns are included for those with light measurement devices. (A inexpensive blue filter is required for Color/Tint, see documentation for sources).

The GetGray Digital Video Calibration DVD is suitable for use with all the popular colorimeter devices and software including but not limited to:

- CalMan
- Progressive Labs CA-6X (supports automatic grayscale generation)
- Ovation Multimedia OpticOne (supports automatic grayscale generation)
- Accucal i1 Pro DCS / Graytag McBeth EyeOnePro
- Colorfacts
- SpyderTV

Today users have only a few choices:
1) Consumer level calibration discs with incorrect colors, and 4:3 aspect ratio
2) Consumer level calibration discs generally perceived to be difficult to navigate
3) Calibration discs bloated with patterns that are rarely used
4) Pro-level disc sets costing over $400
5) Signal generators costing over $1300
6) GetGray Digital Video Calibration DVD (16x9 NTSC) $25
The NTSC version of the GetGray calibration disc is currently in PRODUCTION status.
The PAL version of the GetGray calibration disc for Europe, etc. is currently in PRODUCTION status.
You can view or participate in the ongoing development of future versions of the GetGray DVD in the AVS forum at this thread link: http://www.avsforum.com/threadlink. If you are an experienced calibrator feel free to provide input for future changes.
---
Downloads
Downloads are available to contributors only. This disc is a great deal of work and donations to the project are sincerely appreciated. If you believe the disc will be useful please help by financially supporting the continued development of this Pro-level disc. Contributors will have access to the DVD download and updates through the current main version (i.e. 1.0, 1.1, 1.2, etc.) at no additional contribution.
To become a contributor a minimum contribution of $25 via Paypal is required ($20 plus enough to cover paypal charges). Most find the disc more valuable and contribute more accordingly, which is sincerely appreciated.
READ BEFORE CONTRIBUTING: Please read the AVS forum thread linked above, the documentation available to the public on this site, and view the pattern list for complete information about this disc. It may or may not meet your calibration needs. You must determine that for yourself by looking at the pattern list on this website, reading the documentation file linked below, by reading the AVS thread, or other means. You must be able to create a DVD using a DVD burner from eithr an "iso" file, or from a "VIDEO_TS" folder contents. The instructions do not have any information on how to burn DVD's. There is however a wealth of help on the internet and post #1 of the AVS thread linked above will get you right to a thread with instructions for this DVD. Contributions are non-refundable. You must agree to the license agreement and warnings which can be found in the zipped documentation pdf linked below, PRIOR TO CONTRIBUTING. Contributing signifies acceptance of the license agreement.
Contributors, once you have made your contribution vial Paypal, please allow up to 24 hours (although it will likely be much shorter) to receive the links and authentication credentials for downloading the DVD files. In the case of contributions made via E-Checks, the information will be sent once the check clears.

ATTENTION HOTMAIL AND GMAIL USERS: GMAIL/HOTMAIL sometimes tags the letter with the userid and passwrod as spam and sticks it in your bulk folder. A few users of hotmail accounts reported never receiving their links and authentication email. This has not happened in a long time but in case: Our mail server successfully connects to the hotmail servers, hotmail accepts the message, but *sometimes* hotmail never delivers it to the user. If you register with a hotmail account and do not receive a reply, please contact us using a different email provider. Hotmail is the only provider we know of that has this problem.Our server is pristine and not on any "bad mail" lists, it's just a blatant failure to deliver by hotmail. You get what you pay for I suppose. For what it's worth, our own hotmail account does receive messages from us consistently. It appears related to specific user accounts.
Downloads available:
---
Sample Patterns
Click here to view the DVD patterns, also shown in the documentation file linked below
Patterns and menus
---
Complete Documentation, License Agreement, Warnings
(zipped Adobe pdf format. See www.adobe.com for a free pdf reader)
GetGrayCalDiscReadme.zip
---
NTSC Production Version 1.1
This is the stable, complete, non-Beta GetGray NTSC Calibration DVD. This is the version for USA, North American users and anyone else using the NTSC system.
---
PAL Production Version 1.1
This is the stable, complete, non-Beta GetGray PAL Calibration DVD. This is the version for European users and anyone else using the PAL system.
---
Both PAL and NTSC DVD's are provided in a zipped iso format for your convenience. The iso files are for use with a DVD burner. A link is provided on the download page to free, easy to use software to use in creating the DVD from the iso file.
Download links are provided to contributors with their logon credentials. "Hard-copy" discs are not available for purchasing at this time but may be in the future.
---
Filter Sets
Blue filters necessary for using the Color/Tint pattern are available from several sources as outlined in the DVD documentation linked above. In addition to those sources, filter sets are available from the author to the who are or were contributors of $30.00 or more. Such contributors may send a self stamped, self addressed envelope and the filter films will be returned. Details are available to contributors on the download page (link sent in reply to their contribution). We do not want to be in teh filter business so filters are only available to contributors as described above.
---
THANK YOU FOR YOUR SUPPORT
Please post general questions in the forum linked above. If you need to reach us, you can email us at caldisc05 -at- calibrate.tv
.